"The important thing is to not stop questioning. Curiosity has its own reason for existing."
Ronald A. DePinho, M.D., Biography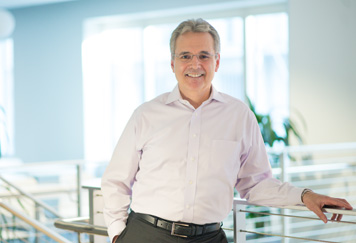 Ron DePinho is an internationally-known leader and recognized for his groundbreaking discoveries in cancer, aging, and age-associated degenerative disorders. His pioneering work and collaborative initiatives across multiple disciplines has yielded better methods of early cancer detection, improved cancer patient care, and new cancer drugs!
With a medical, clinical and scientific research career spanning decades, Dr. DePinho served with distinction as MD Anderson Cancer Center's fourth president from 2011-2017. At the nation's top-ranked hospital for cancer care, he conceived and launched a Cancer Moon Shots Program designed to more rapidly convert knowledge into dramatic reductions in cancer suffering and death. This multi-billion dollar initiative involving nearly 2,000 faculty and staff has yielded many practice-changing advances in a number of cancers and inspired the national moon shot program.
By those who know him well, DePinho is described as an eternal optimist and a passionate, visionary thinker. His inspiration for the ambitious and lofty Moon Shots goal came from America's drive a generation ago to put a man on the moon. "Nothing is impossible if you put your mind to it and cancer patients and their families are counting on us," DePinho says. "This has become my passion and life's work to take my diverse background and collaborative insights to make a meaningful difference for as many lives as possible."
MD Anderson Cancer Center
During his six-year tenure as MD Anderson President, DePinho dramatically expanded and improved basic research programs, enhanced the graduate program, recruited many world class faculty, modernized its translational and digital research infrastructure, secured record philanthropy and clinical revenue, and expanded MD Anderson's global network to 34 institutions in 24 countries, reaching one-third of the global population.

DePinho's sense of urgency continues today as a faculty member in the Department of Cell Biology at MD Anderson where he leads a research lab of 20 researchers. His most celebrated discoveries include the elucidation of a core molecular pathway for aging, the determination of the basis for the intimate link between advancing age and increased cancer incidence and the demonstration that aging can be reversed.
Biotechnology and Public/Private Boards
In addition to his scientific contributions, DePinho has founded several private and publicaly traded biotechnology companies and has served on numerous public and private boards including the NIH human cancer genome atlas project advisory board. He also serves as an advisor for governments, the Vatican and numerous biotech and large biopharma companies focused on oncology. His companies are creating new drugs and diagnostics for the benefit of cancer patients including Tvardi Therapeutics which focuses on STAT3 inhibitors for cancer, inflammation and fibrosis.
DePinho also co-founded and helped establish the Eliminate Cancer Initiative (ECI), working across Australia, UK and the USA communities. The ECI team developed national strategic plan and mobilized nearly $200 million in funding to combat the highly lethal brain cancer, Glioblastoma. This global initiative represents the importance of knowledge sharing, collaboration and innovation.
Most recently, DePinho co-founded Unite to Prevent Cancer. Its mission is to develop a long-term, sustainable system scaled globally to bridge the rapidly widening gap between "knowing and doing" in the prevention of non-communicable diseases and the promotion of overall wellness, beginning with cancer.
Born in the Bronx, New York, DePinho is one of five children of poor immigrant parents who lived the American dream. Dr. DePinho studied biology at Fordham University where he graduated class salutatorian. He received his M.D. degree with distinction in microbiology and immunology from the Albert Einstein College of Medicine. He performed his residency and postdoctoral training at Columbia-Presbyterian Medical Center.
DePinho's independent career began at Einstein as the Feinberg Senior Faculty Scholar in Cancer Research and an ACS Research Professor. He then joined the Dana-Farber Cancer Institute and Harvard Medical School in Boston, where he was the founding Director of the Belfer Institute for Applied Cancer Science and a Professor of Medicine and Genetics at Harvard.

For DePinho's fundamental contributions to cancer and aging and to healthcare, he has been recognized with numerous honors and awards including membership in the National Academy of Science and Medicine, the Ellis Island Medal of Honor, Honorary Doctorate Degree and Knighthood from Portugal. He is a prolific author of over 400 published articles, books and chapters. Dr. DePinho, his wife and three children reside in Houston, Texas.