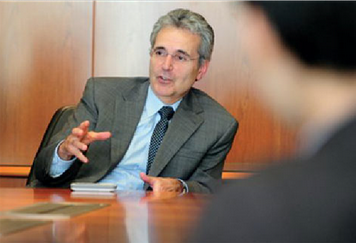 "We can't solve problems by using the same kind of thinking we used when we created them."
Physician Scientist Devoted to Reduce Cancer Suffering
Ron has devoted his life to reducing the burden of cancer, particularly for the underserved. His efforts to impact the cancer problem include conducting innovative research, educating the next generation of physicians and scientists, promoting public health through advocacy and policy, founding new biopharmaceutical companies, and catalyzing cross-sector collaborative programs.
Ron served with distinction as past President and Professor of Cancer Biology at the University of Texas MD Anderson Cancer Center, where he holds the Harry Graves Burkhart III Distinguished University Chair in Cancer Research. During his 6-year tenure as MD Anderson's president, Dr. DePinho conceived and launched the Cancer Moon Shots Program, dramatically enhanced MD Anderson's research and training excellence, recruited many world class faculty and expanded the institution's global network to reach one-third of the human population.
For his significant contributions to cancer, aging and healthcare, Dr. DePinho has been recognized with numerous honors and awards. He is a member of the National Academy of Medicine and the National Academy of Science, and a fellow of the American Academy of Arts and Sciences, the American Association of the Advancement of Science, and the American Association of Cancer Research.
Research Discoveries and Mentorship
Ron's research has illuminated fundamental mechanisms of cancer, aging, and age-associated degenerative disorders. This research has focused on elucidating genetic and biological mechanisms governing cancer and aging.
Through the inventive use of genetically engineered mouse models, the DePinho laboratory has impacted several aspects of modern cancer drug development. Ron's team produced several of the first genetically engineered mouse models for melanoma and glioblastoma, and further refined models for pancreas, colon, and prostate cancers. He established the concept of "tumor maintenance," whereby a driver oncogene remains essential in maintaining a tumor despite the accumulation of many genetic alterations acquired during the malignant transformation process. The tumor maintenance concept has shaped biopharma's approach in validating cancer targets and in identifying target engagement biomarkers during drug treatment.
His laboratory's in-depth characterization of these mice served to define the role of telomerase and telomeres in cancer, aging and age-associated diseases. In this area, his most important discovery was establishing that telomeres underlie the intimate link between advancing age and the development of epithelial cancers in humans, and why such cancers sustain complex chromosomal rearrangements, amplifications, and deletions. He created a new paradigm that reactivated telomerase telomere-dysfunctional adult mice with severe tissue degeneration reversed aging and degenerative phenotypes across many organs including the brain.
Ron is deep committed to mentoring the next generation of scientists. Over the course of his career, he has supervised and mentored dozens of trainees, many of whom have assumed leadership positions in academia, industry, and government. His servant leadership is reflected in a lifelong calling to assemble and guide multi-disciplinary teams to address major scientific, medical, and societal needs.
Ron has founded several private and publicly traded biotechnology companies and served as an advisor for numerous biotech and large biopharma companies in oncology. He notes that many discoveries remain trapped in medical journals instead of being fully leveraged to save lives and reduce suffering. He has encouraged and embraced an entrepreneurial spirit and engages the private sector in a synergistic manner.
The innovative biotechnology companies Ron has launched translate significant research targets into important new drugs. His entrepreneurial ventures include Tvardis, Asylia, Aveo, Karyopharm, and others.
Public Health Initiatives
Reducing suffering from major diseases and helping underserved communities drives Ron career. He catalyzes the development of many public health consortiums to develop new ways to delivery healthcare to underserved populations.
Some of these initiatives include directing NCI Program Projects for GBM and pancreas cancer; creating the Institute for Applied Cancer Science to improve drug discovery; assembling a multi-institutional Neurodegeneration Consortium focused on Alzheimer's Disease; spearheading MD Anderson's Cancer Moonshot to accelerate the translation of discoveries; and founding Opa Health, a non-profit focused on developing a data platform to inform and promote community-level health and resiliency in underserved communities, particularly for youth.
He has served on numerous public and private boards, including the AACR BOD, NAM membership committee, American Academy of Arts and Sciences Membership committee, and is co-chair of the NCI Mouse Models of Human Cancer Consortium and the human TCGA project (The Cancer Genome Atlas) advisory board. He founded and directed the Belfer Institute for Applied Cancer Science to promote science-driven drug discovery. He has volunteered his time to advise governments including Australia, China, United Kingdom, and Portugal. He also serves on the Vatican science advisory council encouraging the importance of public health including tobacco control and HPV vaccination worldwide.